"Schools across Texas continue to deal with overcrowding. The San Marcos CISD school board has been split on the best way to manage it in their district.
"While Texas schools mandate a maximum 22 students in kindergarten through 4th grade classrooms, schools often request waivers to go over that limit.
"In June, San Marcos CISD voted to eliminate waivers, in order to keep classrooms small. The decision boosted morale for both teachers and parents."
"Trustee Anne Halsey was the San Marcos CISD board's most forceful advocate for doubling the number of elementary school gifted and talented facilitators, from three positions to six."
. . . "'I do think having a full-time GT coordinator at each campus is an issue of equity. I think our current coordinators [are] stretched too thin. … In order to cultivate and identify [gifted and talented] students in an at-risk population [it] takes other means,' Halsey said. 'We are trying to do more with less all of the time. And I think this is one of the times, you can't do more with less.'"
San Marcos Daily Record | Wednesday, April 8, 2015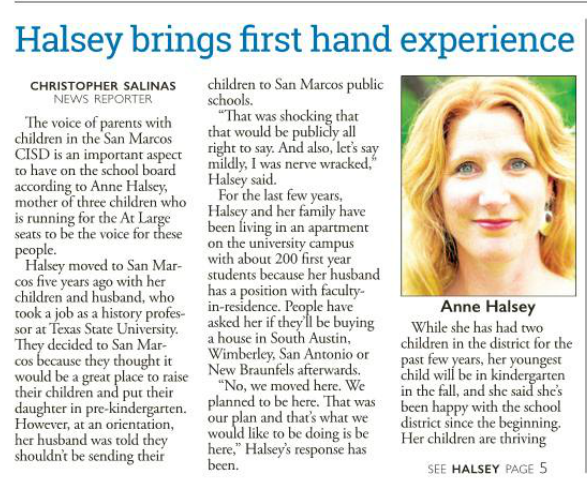 San Marcos Daily Record | Wednesday, April 29, 2015 | By Christopher Salinas

"Anne Halsey mentioned the importance expanding early childhood education in the district and combining it with the K-12 curriculum to increase the success of the current pre-kindergarten program. 'I'm glad that the voters in our district recently decided to prioritize high quality Pre-K and pass the Bonham preschool bond,' Halsey said."
"Secondly, she said the district needs to 'accelerate the rollout' of high school academies to help teenagers succeed now instead of later. And third, she believes in developing a plan to take care of teachers and attract the best with competitive compensation packages."
Austin American-Statesman | Friday, April 10, 2015 | By Julie Chang
Seven people are running for two at-large positions on the San Marcos school board, the district's most crowded race in recent years.
The candidates with the most votes will win the spots. For the next three years, they will help oversee one of the fastest-growing districts in Central Texas. Over the past decade, the district has grown about 9 percent, to 7,755 students.
****
Anne Halsey, 41, said that when she moved to San Marcos in 2010, people told her to put her children in private school instead of the district. She didn't listen, and now her fourth-grader is learning computer coding and robotics and taking modern dance classes at school.
Halsey said the district needs to do more to spread the word about all the good things that are happening and dispel perceptions that it is a bad district.
"There are really wonderful things happening in the district," Halsey said. "I want to tell people that they belong in San Marcos CISD and you will succeed here."
Halsey, who worked on marketing campaigns for cable networks before becoming a stay-at-home mom, wants to expand the district's pre-kindergarten program to all students as quickly as possible. The program is restricted to students who are low-income, can't speak English or have other challenges.
Community Impact | April 21, 2015 | By Brett Thorne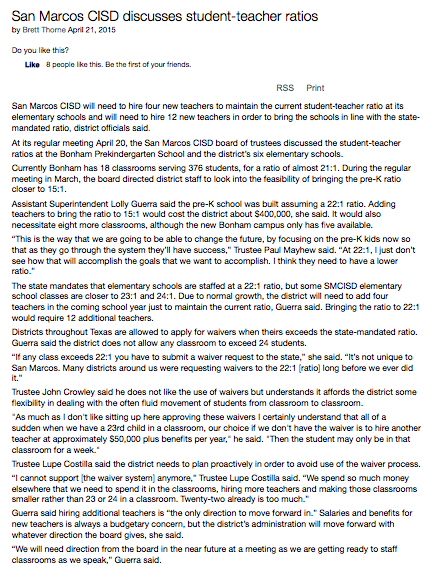 Voters in San Marcos CISD will choose among Sophia Downing, Adam Gonzalez, Anne Halsey, Toby Hooper, John McGlothlin, and Mike Occhialini for two at-large positions on the board of trustees in the district's May 9 election. Get to know the candidates more here.