My dad was a public school teacher and my mother was a public school nurse in Iowa, where I grew up.
I'm a proud product of—and champion for—public schools. My husband is a history professor at Texas State University and we've been married for 13 years. We've been here since 2010 and we have three kids, two at Crockett and one in preschool at St. Mark's.
We love San Marcos and I am thankful to be able to give back to the community that has welcomed me, Jeff, and our children, with open arms.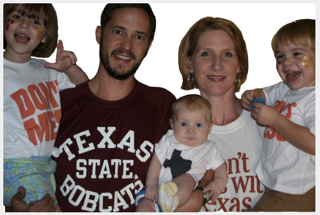 When we moved here in 2010, people advised us to put our children in private schools. We were shocked. But as proud products of and champions for public schools, we decided to assess the schools for ourselves. Thank goodness we did!
For five years, our kids have been thriving in our schools. We have met exceptional teachers, administrators, and families at every step.
We have to send a new message to every child and family in SMCISD: You belong here and you will succeed here!
Please join me in making high-quality education a reality for all!
I have the professional experience to help our schools – and our students – grow.
Corporate, nonprofit, and education-specific professional experience
Senior staff at national foundation; managed multi-million dollar initiative
University of Illinois at Chicago; conducted policy research
Cable network experience; implemented marketing campaigns and managed a $12 million budget
I have considerable professional experience in the corporate and nonprofit sectors, and much of my professional career has been focused on supporting significant educational initiatives. I am a strategist, a planner, and a negotiator. Prior to becoming a stay-at-home mother, I was on the senior staff of a national literary organization where I directed a multi-million dollar initiative to expand the presence of poetry in the media. Before joining the Poetry Foundation, I worked at the University of Illinois at Chicago, conducting policy research and coordinating the activities of the Dean's office. I got my start in the business world directing and implementing marketing campaigns for several cable networks, including Bravo TV where I managed a $12 million budget.
I have served on the Board of Directors of the Presbyterian Parent Cooperative Preschool in San Marcos, and was a member of the Local School Council in Chicago. Recently, I was appointed to the San Marcos Historic Preservation Commission. I graduated from Macalester College and received my MFA at New York University.
I believe the well-being of my family depends upon the prosperity of our community and the success of our public schools. As your board member, I will act with the same integrity, common sense, creativity, fairness, and respect that I give my own family.