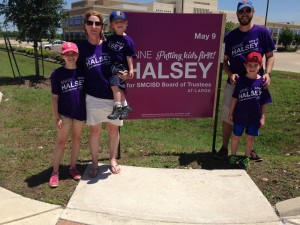 Teachers-
My belief in public schools isn't newly found. I've trusted each of my kids to San Marcos public school from their first day of kindergarten. When my littlest starts school in the fall, all three of my kids will be in SMCISD.
Now, I'm asking for your trust. When educators vote it matters—and I need your vote. Early voting is continuing today from 10 AM – 2 PM at the Hays County Government Center on Stagecoach Trail.
Jeff and I work hard to teach our kids about their rights and responsibilities as citizens of this great nation and they are always excited to go to the polls with us. They're particularly excited today. We'll be casting our votes later this morning and I hope we see you there!
No one will work harder than I will for our schools and our kids. With your vote, together we can make sure the district keeps putting kids first!
Thank you,
Anne