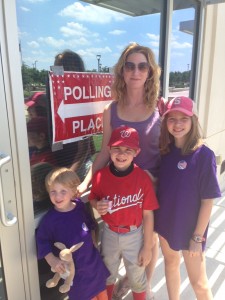 Friends,
This election is going to be very close and I am working hard to earn your vote. But here's what I won't do—I won't go negative.
Every voter I've spoken with agrees: We need school board members who will move beyond divisiveness, treat one another respectfully, and work together in the best interests of all of our students.
San Marcos parents and taxpayers want board members to lead by example. We want strong leaders who conduct themselves in an ethical manner and act in good faith. We want board members who act with transparency. We want board members who keep the public trust by doing what they say they are going to do—whether in a public meeting or behind closed doors.
This is what I will do.
I am offering voters the fresh perspective and positive attitude we need to take on the challenges of a growing community.
If elected to the board, I will bring my extensive professional experience and my hard-won hope for the public schools as I help build consensus and good will among the board, the administration, and the community. I will work constructively to build on our strengths and address our needs. I will keep the public trust. I will not malign other board members, school officials, or teachers. I will not pursue a personal agenda.
I am running for the board because I believe the well-being of my family depends upon the prosperity of our community. I want to provide every student with access to the opportunities and resources they need to succeed. As your board member, I will act with the same integrity, common sense, fairness, and respect that I give my own family.
Our kids count. So does your vote.
If you agree with me and share my vision for our district, I would very much appreciate your vote.
Election Day is this SATURDAY, MAY 9. Polls are open from 7 AM – 7 PM.
You can find your neighborhood polling place via this link:
http://www.smcisd.net/files/filesystem/2013%20smcisd%20map%20individual%20districts.pdf
Thanks so much,
Anne